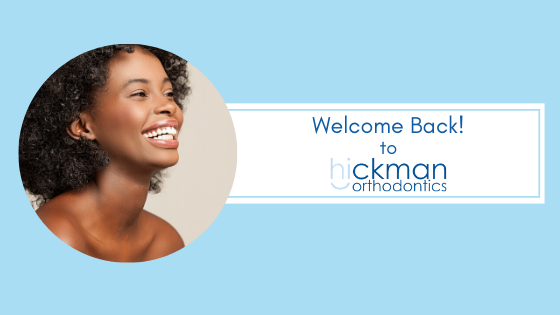 Dear Patients of Hickman Orthodontics,
We are happy to welcome you back to the office starting 04.27.2020 as we reopen under the guidelines of the governor's office. Hygiene and safety have always been a priority at our office and we will be taking additional measures to ensure the safety of our patients and staff during this time. 
Here are a few of our current in office changes and guidelines:
Any patient experiencing flu-like symptoms or fever, feeling sick or that has been exposed to anyone suspected to have been exposed to COVID-19, please reschedule your appointment and please do not enter the office.
When coming in for an appointment, we ask that you wait at our door for one of our staff members to come check you in for your appointment. Parents/Guardians will be asked to fill out a questionnaire and sign a consent form then return to their car. We will take your temperature and have you wash your hands before bringing you directly to the treatment area.
For new patients under 18, one parent may accompany the patient into the office. 
Our tooth brushing stations are closed for now. Please brush your teeth thoroughly before coming to your appointment.
For additional safety, we have installed an RGF Air Purification System. The REME HALO is proactive and sends ionized aggressive advanced oxidizers into the room to destroy pollutants at the source, in the air and on surfaces, before they can reach our patients and staff.
Finally, for your convenience and safety, we will continue to offer virtual appointments for exams, observations appointments and retainer checks.
Our staff and patients are our family, and we are doing everything we can to keep our family safe. We thank you for your understanding and patience and look forward to seeing you again very soon!
Dr. Todd Hickman at Hickman Orthodontics